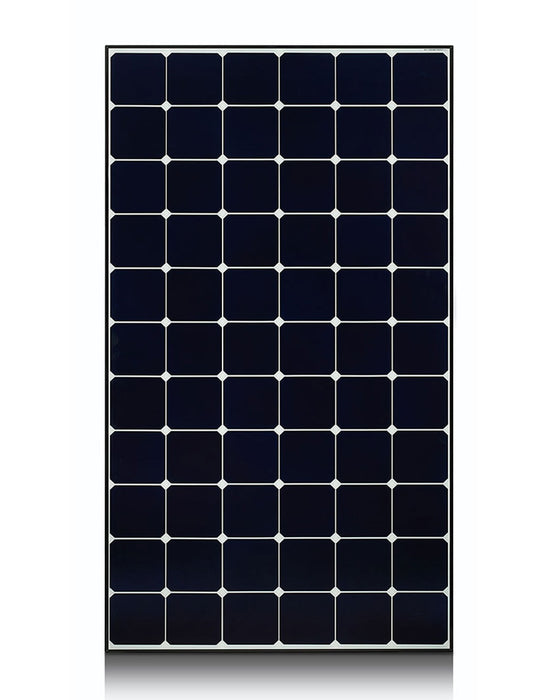 LG 435W NeON R LG435QAC-A6(AQ).BUA Solar Panel - 21.3% Max Efficiency 435W Panel
Description:
Why This Rocks? 
Data Sheet
Description:
The LG NeON R Series LG435QAC-A6 is a high performance 435W solar panel with advanced 120 half-cut mono-crystalline cells and sleek black aluminum frame. With a maximum 21.4% module efficiency, this panel optimizes sunlight conversion for greater energy output.
Designed for aesthetics and durability, the all-black LG NeON R seamlessly fits rooftop installations. With industry-leading efficiency and power, the LG NeON R delivers optimal roof-mounted solar performance.
Why This Rocks? 
The LG NeON R is a powerful and reliable solar panel that stands out from the rest. With its new cell structure that eliminates electrodes on the front, it maximizes light utilization for optimal performance. This means you'll be able to generate more electricity even in limited space.
This solar panel is not only great in terms of performance, it also stands out with its aesthetic design. The sleek black frame and lack of electrodes on the front create a modern, clean look, making it a perfect choice for roofs.
Durability and peace of mind are also key features of the LG NeON R. With a 25-year limited product warranty, and additional coverage for labor costs, you can rest easy knowing that your investment is protected.
All in all, the LG NeON R solar panel is a smart choice for anyone looking for optimal performance, great looks, and peace of mind. It's a solar panel that truly rocks.
Data Sheet